WHEELS TREATMENT AND CONSERVATION



Abrasive wheels need special attention both during storage and in the dislocation of each individual product.

For proper warehouse management, there are fundamental rules to be followed to avoid irreparable damage.




RACK DESIGN SUITABLE FOR STORING A WIDE VARIETY OF GRINDING WHEELS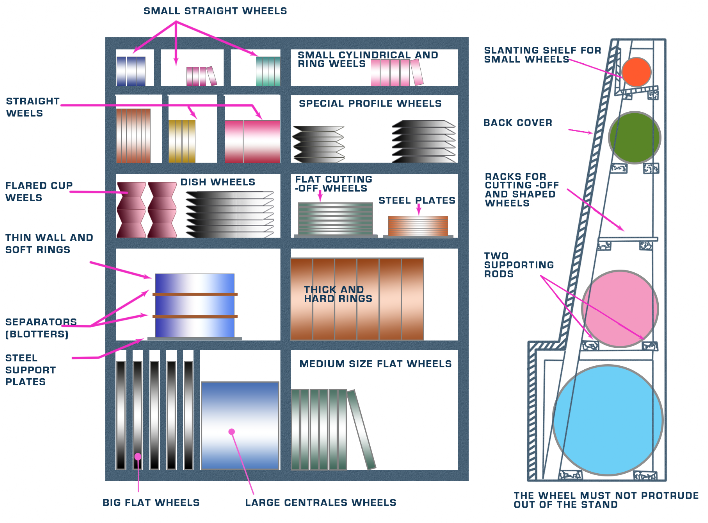 HANDLING AND STORAGE



Grinding tools shall be protected from any damage, vibration, moisture, undue warmth causing strength decrease during transportation, handling and storage. Protect them from deformation, tension, do not knock each other or other object. Abrasive tools shall be stored over +5 °C.




Heavy wheels or packages containing abrasive tools should be lift with suitable crane or hydraulic jack. Do not roll grinding wheels along the floor.




Resin bonded ( B, BF ) grinding tools must be stored under 80% relative humidity.




Resin bonded ( B, BF ) grinding tools can be stored until the expiry date marked on the wheel or on the label, or within 3 years (3 years if reinforced) from the date of manufacture if the expiry date is not marked. Afterwards the use of expired abrasive tool is dangerous and forbidden.